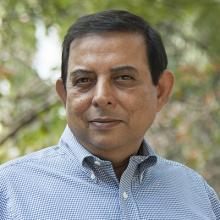 Dr Kiran Kumar Sharma
Senior Director, Sustainable Agriculture
Dr Kiran Kumar Sharma has been working with TERI as a Senior Director at the Sustainable Agriculture Division since June 2022. Prior to this, he served as the Deputy Director General-Research, and the Director of CGIAR Research Program on Grain Legumes and Dryland Cereals (CRP-GLDC) at the International Crops Research Institute for the Semi-Arid Tropics (ICRISAT). He was also leading The Agribusiness and Innovation Platform @ ICRISAT as its CEO, devising strategies for program planning and management, Agribusiness Entrepreneurships, public-private partnerships, and value-addition for nutritional enhancement to address malnutrition, hunger, and poverty through inclusive market-oriented development.
A PhD from Delhi University in Botany and Post-Doctoral training from the University of Calgary, Canada; Dr Sharma has over 35 years of experience in Cell, Molecular Biology, and trait engineering for crop improvement, performing multidisciplinary research with a thorough understanding of the global agricultural R&D trends, its needs and challenges.
Dr. Sharma played a key role in establishing an Agri-Business Incubator@ICRISAT (ABI) in 2003 with support from NSTEDB-DBT, Government of India. He was also instrumental in establishing the Platform for Translational Research in Transgenic Crops (PTTC) in 2007 with support from the Department of Biotechnology, GoI to facilitate translation of genetic engineering technologies and proof-of-concepts to value added products.
His most recent engagement has been in the establishment of a Bio-Incubator (BioNcube) under the BioNEST program of Biotech-Industry Research Assistance Council, GoI (BIRAC) in 2017 to support start-ups in advanced biotechnologies.