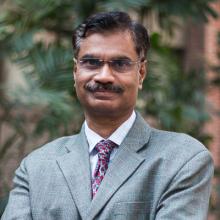 Mr S Vijay Kumar
Distinguished Fellow, Rural Energy and Livelihoods
S Vijay Kumar joined TERI with a Masters degree in mathematics, as Distinguished Fellow, in November 2013 after tenure as the Permanent Secretary of the Indian Ministry of Rural Development. He works on policy issues related to natural resources, including land, water and minerals and mentors TERI colleagues in natural resource related sectors, and advises on TERI project design and implementation strategies, including policy aspects. He also leads the TERI-wide initiative on SDGs and Policy Coordination to ensure that research on SDGs and related policy across the Institute is better coordinated. He has authored, along with colleagues in TERI, policy papers on mineral resources, environmental governance, water resources etc.
In addition to his work in TERI:
He prepared a Report in January 2014 on the request of the Ministry of Rural Development on "Restructuring of the National Institute of Rural Development" (NIRD)
He was a Member of the Task Force appointed in March 2015 by the Madhya Pradesh Government at the instance of the NITI Aayog to draw up a new approach to poverty elimination (Report 2015)
He is co-chair of the committee set up by the Ministry of Rural Development in June 2015 for selecting private sector partners to champion its skill development programme Deen Dayal Upadhyaya Grameen Kaushalya Yojana (DDU GKY)
He has been appointed for a 3 year term commencing June 2015 as a Member of the United Nations' International Resource Panel (IRP) which considers issues relating to governance of resources and poverty and prepares science -based policy related reports on natural resource management, resource use efficiency and environmental impacts of resource use. He is currently a member of the Working Groups of the Panel on mineral governance and land resources.
He was a Consultant to the NITI Aayog in the rural development and rural transportation sectors , for development of their Vision and 15-year strategic Plan for the Government of India
He was a member of a 3 member international review committee set up in 2016, which gave the Report on the Strategic Plan for CIRDAP ( Centre on Integrated Rural development of Asia and the Pacific) a regional, intergovernmental and autonomous organisation, established at the initiative of the countries of the Asia-Pacific region and the Food and Agriculture Organization (FAO)
He was a Member of the Board of Governors of the Institute for Rural Management ,Anand (IRMA) in 2016-17
He chaired the Committee appointed by the Ministry of Rural Development in 2017 at the instance of the Supreme Court of India, to prepare guidelines/rules for accreditation of VOs/NGOs
He is a member since 2017 of the Technical Expert Committee for the European Union (EU) financed Resource Efficiency Initiative (REI) in India.
He is a member since 2017 of the SDSN's Thematic Network 10:Good Governance of Extractive and Land Resources
In his earlier career in the Government, S Vijay Kumar was a member of the Indian Administrative Service and has held District, Divisional and State level positions dealing with land, personnel and police administration. In the Central Govt, he has been Director, National Wastelands Development Mission, Ministry of Environment and Forest, 1986-91; Joint Secretary in charge of the Govt's flagship programme, the Prime Ministers Rural Roads programme (called PMGSY), 2002-05; Additional Secretary and Secretary, Ministry of Mines 2008-11, and finally, Secretary Ministry of Rural Development till his retirement in Sept 2013.
S Vijay Kumar's notable achievements in his stints in the Government include:
Drafting the Integrated Watershed Development Programme (IWDP) Guidelines in 1991
Land records computerisation in Himachal Pradesh,1996-98
Drafting the Operations Manual for the PM's Rural roads programme (incorporating environmental and social safeguards) and negotiating loans from World Bank ($400 mill.) and ADB ($500 mill.), 2004
Drafting and piloting till enactment, of the reformist Himachal Pradesh Police Act, 2007
Chairing the Committee on restructuring of the Geological Survey of India, 2008-09
Drafting and piloting till Cabinet approval, the Mines and Minerals (Development and Regulation) Bill, 2011
Development of the "Sustainable Development Framework" for the Minerals sector, 2011
Member, Committee on allocation of Natural Resources under chairmanship of Secretary Economic Affairs, 2011
Member, Planning Commission Committee to draft the "National Manufacturing Plan", 2011
Chairman, Planning Commission Working Group on the Mineral Sector, for the XII Plan, 2011
Development of Guidelines for the Prime Minister's Rural Development Fellows Scheme; "Aajeevika" skill development scheme for BPL youth; Indira Aawaas Yojana; and for the follow-on programme to the rural roads programme (PMGSY); during 2012-13.