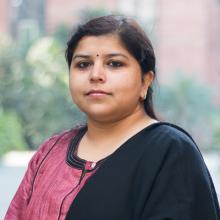 Ms Raina Singh
Area Convenor, Centre for Urban Planning and Governance
Raina Singh, Fellow and Area Convener, Transport & Urban Governance, is an urban environmental planner by training with more than five years of research experience in projects related to the sustainable urban development and climate risk management.
Her recent engagements have focused on the preparation of climate resilience plans for cities and development of climate resilient infrastructure services. She views urban planning with a holistic lens where environmental concerns, climate adaptation and disaster risk reduction are built into the master planning processes. Towards this end, she has also looked at the policy environment and existing urban development regulations in India so that these could be well equipped to enable sustainable and climate-smart development.
Ms Singh has a bachelor's degree in Physical Planning and a Master's degree in Urban Environmental Planning from the School of Planning and Architecture, New Delhi, apart from a course in Climate and Disaster Risk Management from Wageningen University and Research Centre, Netherlands. She was the gold medal for the best post-graduate thesis in Environmental Planning for her thesis titled 'City Planning in the face of Climate Change' from the School of Planning and Architecture, New Delhi and was awarded Fellow by The Netherlands Fellowship Programme and TERI's Roll of Honour for outstanding growth in 2016.
Ms Singh is constantly involved in training and capacity building of policy makers, city level officials and practitioners, apart from students and researchers. She is also the author of multiple articles and papers on sustainable and climate resilient cities and urban space planning.