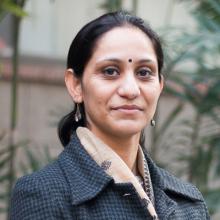 Ms Akshima Tejas Ghate
Associate Director, Transport & Urban Governance
Akshima is the Associate Director of the Transport and Urban Governance Division. She leads the two areas, Centre for Urban Planning and Governance (CUPG) And Centre for Sustainable Mobility, housed under the Division. Akshima graduated as a Development Planner and has a Master in Planning with specialization in Environmental Planning from the School of Planning and Architecture, New Delhi. A Gold medalist throughout her university education and a GATE scholar, Akshima has been leading policy research studies focusing on promotion of sustainable and low-carbon development of transport systems for the Govt. of India, state governments, multilateral and bilateral financing agencies and UN.
Her research work has influenced public policy and has been extensively quoted by the transport research community within and outside India. She has contributed to several important reports of the Government of India and UN. She was the contributing author to the 'India Transport Report: Moving India to 2032' prepared by the National Transport Development Policy Committee of the Government of India. She was also the coordinating author of the Working Group Report on Environmental Sustainability of Indian Cities under the Housing and Urban Development Working Group constituted as part of preparation of the Twelfth Five Year Plan. She has also contributed to the transport chapter of Government of India's Report submission to the UN Commission on Sustainable Development. She have published several policy briefs, newspaper and magazine articles, research papers and reports on policy issues related to promotion of sustainable transport. She also serves on several committees set up by the Govt. of India and international agencies.
Akshima is currently pursuing a PhD from the Indian Institute of Technology (IIT), Delhi. In 2016, she received the prestigious 'Lee Schipper Memorial Scholarship for Sustainable Transport and Energy Efficiency' awarded by the World Resources Institute, USA. She was also selected for the Indian Leaders Program organized by the Spain India Council Foundation in 2016. She has spent five weeks (Aug-Sep, 2012) at Yale University, USA as a Visiting Fellow under the TERI-Yale collaboration on exchange of researchers. She is also serving as a member on the International Scientific Committee (ISC) of CODATU 2017, a prestigious biannual Conference on urban mobility.
Akshima is also associated with the TERI University as an Associate Faculty and takes guest lectures at the School of Planning and Architecture, New Delhi, Institute of Urban Transport (India) and International Center for Environment Audit and Sustainable Development (iCED), Jaipur.