TERI - Uni Research Climate Research School on Extremes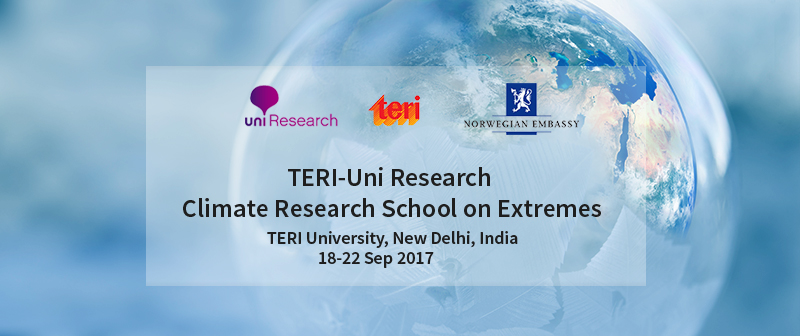 Background
Apart from the growing concern worldwide on the impacts of climate change, Intergovernmental Panel on Climate Change (IPCC) in its special report on extreme events (IPCC, 2012) has highlighted the growing concern regarding the increased occurrence of climate extremes worldwide. There is a need to carry out analysis for occurrences of such extreme events in the future by using high resolution modelling and various robust statistical (Bayesian, statistical downscaling, etc.) approaches for region specific data. Prior information on the possible occurrences of extreme climatic events and their associated impacts can help avert many climate disasters and help create appropriate climate-proof policies for the future.
Under this context, The Energy and Resources Institute (TERI) in collaboration with The Uni Research Institute, Norway has recently begun a joint project with a focus on climate extremes in India. TERI and Uni Research-Norway in collaboration with Norwegian Ministry of Foreign Affairs and under the Phase 2 of Norwegian Framework Agreement would be organizing the first Climate Research School on extremes from September 18 - 22, 2017 at TERI University campus.
The research school focusses on the topical issue of weather and climate extremes. The 5-day residential school is designed for advanced Masters level students, early PhD students and early career scientists in the field of atmospheric, ocean science and modelling to provide them an understanding on the dynamicity and predictability of extremes events along with laboratory work on analysis of datasets.
TERI, New Delhi in collaboration with The Uni Research, Norway invites advanced Masters level students, PhD students and early career scientists in the field of weather and climate sciences for a five day residential research school on Extremes in New Delhi.
Key topics covered in the lectures
Theory & mathematics of Extremes
Role of Atmosphere and Oceans in regional extremes
Regional data useful for extreme event analysis
Bayesian Probability Theory
Climate data analysis specific to analyzing extremes
Hands-on activity with R statistical package
List of faculty
Dr. Valerio Lucarini, Professor, University of Reading, UK
Dr. Andrew G Turner, Associate Professor, University of Reading, UK
Dr. Michel d S Mesquita, Research Scientist, Uni Research, Norway
Dr. Thomas Toniazzo, Research Scientist, Uni Research, Norway
Dr. Indrani Pal, Research Associate Professor, NOAA-CREST, USA
George Ulguim Pedra, Meteorologist, INMET, Brazil
Dr. Ashis K Mitra, Scientist-G, NCMRWF, Noida
Dr. Krishna AchutaRao, Associate Professor, IIT-Delhi, India
Dr. O P Sreejith, Scientist D, IMD-Pune, India
Dr. Roxy Mathew Koll, Scientist D, IITM, India
Requirements
Since the participation is limited, those interested may fill in the online application form and submit on or before 10th June, 2017. Participants may also arrange a letter of recommendation from head/supervisor (details in the application form). A scientific panel will review all the applications and select the successful candidates based on their abstract submission and scientific motivation towards the research school. Successful participants will be informed of their selection by 30th June, 2017.
Support
Registration fee: Nil.
Accommodation: Will be provided to all participants on twin sharing basis.
Meals: all meals during the research school duration will be covered for participants only.
Local travel reimbursements to/from venue will be provided to all the participants on producing bills.
Grants: Limited travel grants (AC-III tier train fare) may be provided for students participating from Indian Universities to attend the research school based on financial need and scientific merit of proposed abstract. Participants must attend the entire research school in order to benefit from the financial support that includes travel and boarding.
Registration
Click here to register.
Organised by
The Energy and Resources Institute (TERI), Darbari Seth Block, IHC complex, Lodhi Road, New Delhi - 110003. Web: www.teriin.org
Uni Research, Nygårdsgaten 112, 5008 Bergen, Norway. Web: www.uni.no
We would like to thank the Norwegian Ministry of Foreign Affairs for funding this project under TERI - Uni Research collaboration entitled "PREPARE project: Preparing for the Future: designing climate products and models for India"
Past Events
Click here to view previous events.
Date:
18-22 Sep 2017
Location:
TERI University, New Delhi, India
Category:
Any Other
Contact
Mr Saurabh Bhardwaj
Fellow
Centre for Global Environment Research
Earth Science and Climate Change Division
E-mail: saurabh.bhardwaj@teri.res.in
Mr Santosh Kumar Muriki
Research Associate
Centre for Global Environment Research
Earth Science and Climate Change Division
E-mail: SantoshKumar.Muriki@teri.res.in
Venue
TERI University
Plot No. 10, Institutional Area,
Vasant Kunj, New Delhi - 110070
Ph. 011 2612 2222