Surya Mitra Skill Development Programme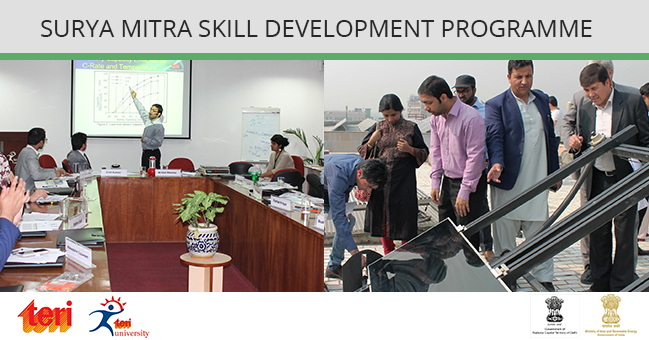 Background
The Ministry of New Renewable Energy, Government of India has taken an initiative to installed 100 GW solar project by 2022 in co-ordination with State Nodal Agencies. However, there are gaps in the capacity and quality of training infrastructure as well as outputs, insufficient focus on workforce aspirations, lack of certification and common standards and a pointed lack of focus on the unorganized sector. In order to achieve this mission more than 50,000 skilled manpower are required for installation, commissioning, operation and maintenance in the field of solar technology.
Recognizing the need and urgency of quickly coordinating the efforts of all concerned stakeholders in the field of Skill Development and Entrepreneurship, Government of India notified the formation of the Department of Skill Development and Entrepreneurship on 31st July, 2014 which subsequently led to the creation of the Ministry of Skill Development and Entrepreneurship on 10th Nov, 2014.
"Skilling India" is the dream project of Honorable Prime minister of India for creating job opportunities for the unemployed youth in the various services and manufacturing sectors throughout the country. It is a flagships program of the PMO targeting to create 500million skilled manpower by 2020. Renewable energy is one of these targeted sectors, and National Institute of Solar Energy, an autonomous institute under the Ministry of New & Renewable Energy is assigned with the responsibility to execute the various skill development programmes throughout the country in the field of renewable energy technology. Under this scheme The Energy and resources Institute(TERI), New Delhi is going to organize 1st training batch from 8th Feb 2016, at KNB house 258/662, Lane No.3, Western Marg, Saket Delhi-17, with support of National Institute of Solar Energy(NISE) GoI and Energy Efficiency and Renewable Energy Management Centre (EE& REM).
Objective

The main objective of this training programme is to train 10+2 passed, ITI/diploma holders/ to execute and successful implement National Solar Mission across the country.
Ensure sufficient, high quality options for long-term skilling, benchmarked to internationally acceptable qualification standards, which will ultimately contribute to the create a highly skilled workforce.
Develop a network of quality instructors/trainers and maintain database as a portal for matching the demand and supply of skilled workforce in the country.
Support weaker and disadvantaged sections of society through focused outreachprogrammes and targeted skill development activities.
Number of Participants/Target Audience
There are 30 numbers of students from various ITI/Diploma Institutions are participating in this training programme.
Duration
Total duration of this training programme is three months which includes theoretical and practical hands on and industrial visit on various aspects of solar technology.
Topics to be covered
The topics described in this section constitute the training modules on various topics related to Basic Electricals, Renewable Energy, Different types of Solar technology, Inverters, Batteries. The detailed curriculum of the training programme is available on the Suryamitra Curriculum Guide
Basic Electricals
Introduction to Renewable and Solar Energy
Installation of Solar Power plant
Soft and Entrepreneur Skills
Overview on Electricity
Renewable Energy and its prospects various RE sources
a) Preparation and general considerations for installation (DC and AC components).
b) Installation of Array support structure and mounting of PV modules.
c) Installation of other System components, i.e. Inverter, battery etc

Development Competency / Proficiency in English/Vernacular
Different types of Electrical tools
Introduction of Photovoltaic Technology and its applications
Cable Tray and Cable Laying: SCADA and Control System
Effective Communication, Self &Time Management, Motivation Techniques, Interpersonal Skill Development, Computer Literacy, Life Skills
Wires & Cables
Components of a PV System: Battery, inverter and Charge controllers
Commissioning and Testing of Solar Power Plant
Entrepreneurship
Common Electrical Accessories
Fundamentals of PV system sizing
Operation and Maintenance
Occupational safety, Health and Environment Education
Concept of Magnetism & Alternating Current
Trouble Shooting of different PV system
Generation, Transmission and Distribution Of Electricity
Importance of Tools and its applications used in the field of Solar Technology.
Date:
8 Feb 2016
Location:
KNB house 258/662, Lane No.3, Western Marg, Saket Delhi-17
Category:
Training
Contact
Training Programme Coordinator

For Enrollment Purpose Please contact undersigned:
Mr T C Sharma
Manager
Energy Efficiency & Renewable Energy management Centre (Department of Power)
Mobile: 09717694808
Phone: 011-23815874
Email: managereerem.gnctd@gmail.com