TERI at COP21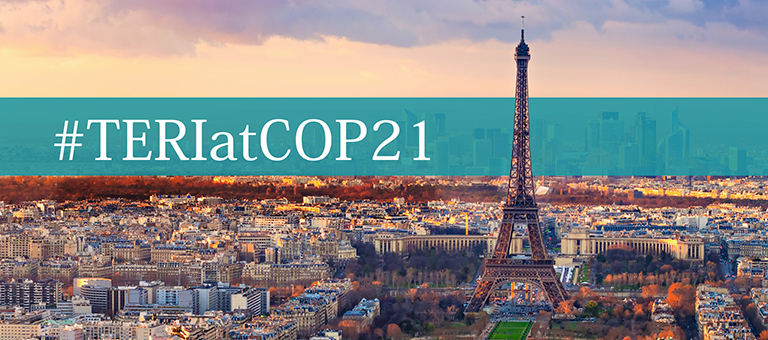 The 21st Conference of the Parties (COP21) to the United Nations Framework Convention on Climate Change (UNFCCC) and the 11th Session of the Conference of the Parties serving as the Meeting of the Parties (CMP8) to the Kyoto Protocol was held at Paris, France from 30 November-11 December 2015. COP 21 was a critical step forward towards catalysing climate action across countries so that the aggregate effect results in limiting the rise in global mean surface temperature to below 2 degree Celcius from the pre-Industrial Revolution levels as well as to build necessary adaptation capabilities among the countries vulnerable to climate change.
Among the key issues on which decisions are expected as part of the package are (1) a process to continually increase the ambition as communicated by countries through their INDCS, (2) operationalization of the principle of equity, CBDR and RC in this process, (3) mobilization of finance, particularly the fulfilment of Annex I commitment to mobilise USD 100 billion per year by 2020, (4) issues related to technology transfer, and (5) Future of the Warsaw Mechanism on Loss and Damage.
Like all previous COPs, TERI was engaged in active constructive dialogue on climate policy and action. The formal platforms included the Joint Exhibit Booth of TERI and DIE (the German Development Insitute) and various side-events organized by TERI and organized by other organizations where TERI colleagues shared TERI's research and insights on climate policy and sustainable development practices with wider audience.
The details of Side Events are given below.
TERI's side events and other participation information
December 3, 2015
19:30 onwards
Restaurant Chez JENNY (espace sécurisé) - 39 Bd du Temple - M° République 25€ (veg/non veg) tout compris yc coktail.

REGISTER NOW: EIEBGparis@gmail.com

Contact: Mr Manish Kumar Shrivastava

Insights on India's contribution and conference outcome

Organized by: EIEBG (India Economic & Business Group)
TERI's Role: Panelist

The event was a moderated discussion on India's INDCs, its challenges, opportunities, role of business and expectations from COP21.

---

December 4, 2015
9:00-10:30h
Fondation Charles Léopold Mayer - FPH, 38, rue Saint Sabin - 75011 Paris - France

Contact: Mr Manish Kumar Shrivastava
Energy Efficiency: A Cheaper Path to a 2-Degree Future

Organized by: Fraunhofer Institute for Systems and Innovation Research (ISI)
TERI's Role: Panelist

The event discussed ClimateWorks & Fraunhoffer ISI report, "How energy efficiency cuts costs for a 2 degree future" - which includes an assessment of the contribution of energy efficiency to reducing the cost of reducing warming in line with the internationally agreed 2 degree limit. The report focuses primarily on the US, EU, India, China, Brazil and Mexico, and found an overall, and significant, dollar value reduction for the costs when compared to more energy intensive decarbonization pathways. The report also makes a number of specific regional policy recommendations which will be of use to policy makers (including for INDCs), and funders looking for opportunities to keep global warming to 2 degrees or less.

---

December 4, 2015
10:00-13:00h
India Pavilion, Le Bourget, Paris, France

Contact: Mr Sarbojit Pal
GHG Mitigation in Transport Sector-Roadmap for India

Organized by: Government of India
TERI's Role: Knowledge Partner

The Event had multiple sessions with representatives from government of India, private sector, financial institutions and experts speaking about the plans, challenges and opportunities for transforming India's transport sector

---

December 4, 2015
11:30-13:00h
Observer room 1
Le Bourget, Paris, France

Contact: Mr Manish Kumar Shrivastava
Data & Values, Science, Politics and Mechanisms: Ambition and impact of INDCs and the Global Deal

Organized by: Climate Analytics, PBL, TERI
TERI's Role: Co-organizer

The side event discussed the equity implications of INDCs, the macroeconomic consequences of emission gap, and solutions and co-benefits of bridging the gap.

---

December 4, 2015
15:45-17:15 h
Climate Generations Area

Contact: Mr Manish Kumar Shrivastava
Climate Clubs: Coalitions of ambitious frontrunner countries to help close the two degree gap

Organized by: DIE and Germanwatch
TERI's Role: Panelist





---

December 5, 2015
11:15-12:45h
OECD Pavilion, Blue Zone

Contact: Mr Manish Kumar Shrivastava
Looking beyond the mitigation targets of INDCs: finance, fairness and adaptation

Organized by: DIE, ACTS and TERI
TERI's Role: Co-organizer

The INDCs can be considered as self-differentiation of countries' responsibilities. Although INDCs are primarily an instrument for mitigation ambitions, other aspects also provide insights in the ambitions and directions of the negotiations. For example, to what extent are mitigation ambitions of developing countries conditional to climate finance? What is included on Loss & Damage? Who writes about adaptation, and what? This event looked beyond mitigation target in INDCs, and focused on issues such as finance, fairness and fossil fuel subsidy reform, just to mention a few.

---

December 5, 2015
16:00-17:30h
Africa Pavilion

Contact: Rita Effah
Will Paris pave way for Africa's prosperity and transformation?

Organized by: TERI

Africa clearly is a continent which has very high vulnerability to the impacts of climate change. It is also at a stage of development where it can make choices, particularly on the mix of energy that it uses, which would ensure sustainability on the one hand and a low emissions pathway of development on the other. This session focused on the special challenge and opportunities of Africa as a sequel to COP in Paris.

---

December 6, 2015
International Union of Railway (UIC) Headquarter

Contact: Mr Shri Prakash
Ms Neha Pahuja
Mr Sarbojit Pal
Transport Day

Organized by: Partnership on Sustainable, Low Carbon Transport (SLoCaT Partnership); Bridging the Gap Initiative (BtG Initiative); Michelin Challenge Bibendum (MCB)
TERI's Role: Participant


---

December 7, 2015
12:30-17:50 h
Hotel Bel Ami

Contact: Mr Manish Kumar Shrivastava
Galvanizing the Post-2015 Groundswell of Climate Actions Workshop

Organized by: DIE, GGCA, TERI
TERI's Role: Co-organizer

The workshop brought together practitioners and researchers assessing the impact and potential role of non-state actors in achieving the objective of the Convention.

---

December 7, 2015
17:00-19:00h
Espace Fondation EDF, 6 Rue Récamier, 75007 Paris

Contact: Ms Neha Pahuja
Powering Innovation for a Sustainable Future

Organized by: Global Sustainable Electricity Partnership (GSEP)
TERI's Role: Discussant

The panel discussed the content of a recent report entitled "Powering Innovation for a Sustainable Future" in which the companies of the Global Sustainable Electricity Partnership (GSEP) urged the Parties when establishing a long-term climate agreement at COP21, to enable effective frameworks that channel investments and support the development and deployment of reliable and affordable technologies in order to deliver lower or zero carbon emissions.

---

December 7, 2015
18:00-20:00h
Hotel Bel Ami

Contact: Mr Manish Kumar Shrivastava
THE ACTION AGENDA: CLIMATE ACTION FROM THE GROUND-UP TO 2020 AND BEYOND

Organized by: Stanley Foundation, CAN-I, GGCA


---

December 8, 2015
10:00-12:00h
EU Pavilion

Contact: Dr Ritu Mathur
Impacts of INDCS

Organized by: European Commission
TERI's Role: Panelist

The event discussed the political and technological dynamism that the very submission of INDCs by many countries has initiated or expected to induce towards climate resilient development.

---

December 8, 2015
15:45-18:45 h
Climate Generation Area

Contact: Mr Mihir Mathur
The Inner Dimensions of Climate Change

Organized by: The Global Peace Initiative of Women
TERI's Role: Panelist

The event discussed grassroots, community level solutions to climate change.

---

December 8, 2015
17:00-18:00h
Climate Generation Area, Le Bourget

Contact: Dr Annapurna Vancheswaran
India Energy Dialogue

Organized by: TERI

The deliberations highlighted the role of business and its achievements for tackling climate change by pursuing sustainable energy and cleaner solutions. The event also witnessed the launch of the Corporate Vision on climate change, a document that presented initiatives of India's top corporates for tackling climate change while also identifying the potential and opportunity for future endeavours.

---

December 9, 2015
15:00-19:00h
Escape Electra, 6 rue Recamier, 75007 Paris

Contact: Dr Annapurna Vancheswaran
Delhi to Paris: Corporate Vision on Climate Change

Organized by: TERI and EDF

The event launched the 'corporate vision document' and presented what role the Corporate sector is willing to play in achieving India's INDC targets.

---

December 10, 2015
11:30-13:00h
Observer room 1
Le Bourget, Paris, France

Contact: Dr Annapurna Vancheswaran
Global Climate Action: Perspectives on Major Energy Initiatives- USA, India and China

Organized by: NRDC, TERI, GEI-China
TERI's Role: Co-organizer


---

December 11, 2015
15:30-17:00h
Climate Generation Area, Salle 1

Contact: Mr Shirish S Garud

Emissions Reduction Potential from Green Building & Beyond - Green Buildings in a Sustainable City

Organized by: Delta Electronics Foundation
TERI's Role: Panelist


---
Date:
3-11 Dec 2015
Location:
Paris, France
Category:
Conference
Contact
Mr Manish Kumar Shrivastava
Fellow
for Global Environment Research
Earth Science and Climate Change Division
E-mail:
mshrivas@teri.res.in