TERI-ITEC Courses 2013-14 Course I - Applications of biotechnology and its regulation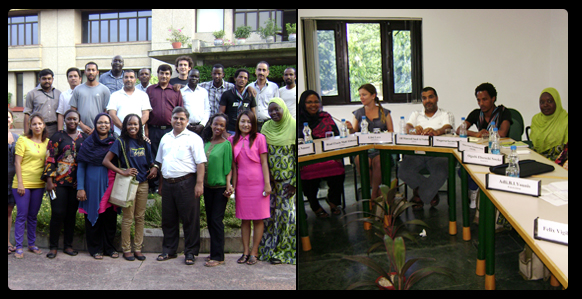 Under the aegis of Indian Technical and Economic Cooperation (ITEC)/Special Commonwealth African Assistance Programme (SCAAP), Government of India, TERI had organized a training program on "Applications of biotechnology and its regulation" at TERI RETREAT, Gwal Pahari, Gurgaon during 9-28 September 2013. This three week long residential course was attended by 19 senior and mid-level government and non-government officials from 12 developing (ITEC/SCAAP) countries.
The course was aimed towards imparting a unique blend of theoretical and practical training and field visits in various aspects of plant biotechnology. It provided an understanding of various aspects related to traditional and advanced biotechnology, environmental and bioethical concerns of new technologies, and their risk assessment & management. Issues related to sustainable agriculture through application of biofertilizers, biopesticides, food safety and impact of IPRs on future agriculture development with special reference to developing countries were also covered.
Date:
9-28 Sep 2013
Location:
RETREAT, Gual Pahari, Gurgaon
Category:
Any Other
Contact
Dr Sanjay Saxena
Senior Fellow
Micropropagation Technology Park
Biotechnology & Bioresources Division
E-mail:
sanjays@teri.res.in