3rd Environment Educators' Conference 2010 - Participatory approach towards environment education: Stakeholder's perception and roles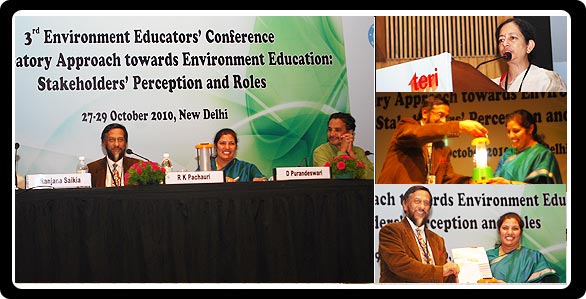 Educational methodologies based on participatory approach promote sharing of knowledge, experiences and reflections amongst the learners as well as educators. This has been considered significant for teaching and learning Environment Education. To facilitate and promote Education for Sustainable Development, it is vital to understand and share the perceptions and roles of all stakeholders. Keeping this as the base EEYS organised the Third Environment Educators Conference, a 3-day conference themed "Participatory Approach towards Environment Education: Stakeholder' Perception and Roles".
The three day conference was attended by experts, corporate groups, policy and curriculum developers from across the nation who shared their thoughts and experiences with more than 250 teachers at the conference. The valedictory session of the conference was graced by Smt. D Purandeswari, Hon'ble Minister of State for Human Resource Development, Govt of India, Dr R K Pachauri, Director-General TERI, Prof G Ravindra, Director NCERT and Ms Ranjana Saikia, Director EEYS TERI, who gave a larger perspective and an international outlook to the 3-day deliberations at the conference.
Emphasising on the need to build such bridges of learning, Dr R K Pachauri said, "It would be wonderful if teachers go beyond the regular pedagogy and actively involve in developing the school as a sustainable habitat. Climate change is only a symptom of a much larger problem - unsustainability. Students and teachers need to think about the poorest of the poor who get their daily needs from the ecosystem; they are most vulnerable as climate change will affect them the most. If teachers are empowered then clearly there would be a major multiplier effect in our society. We need to change the way we live and the way we develop our technologies to move towards the path of sustainability."
Lauding the efforts of TERI in the in playing a major role towards sensitising the youth, and the school fraternity towards issues related environment Smt. D Purandeswari said, "Environment issues and practicing environment education is now becoming an integral part of our school curriculum and this conference by TERI is a larger movement of educators where solutions to the dangers of climate change are discussed and made aware of. Today India needs development fast, but not at a cost that degrades environment and ecology. What is required is inclusive development. Teachers and schools need to be the torchbearers of inclusive development and sensitised children about the fine line between development and environment."
This year the conference had sessions on how schools can address some of the critical environmental issues by integrating them creatively in their education process. A separate session on 'green curriculum' looked into the aspects of integration of environmental issues into the curriculum at all levels and in all regions of the country. Special group activity sessions were taken up focussing on linking Environment Education to classroom activities through various subjects.
The conference brought together stakeholders from school environs, ranging discussions on the environmental aspects of the processes linked with education. Throughout the event, school educators, guests and speakers will be given ample space and freedom to discuss their concerns, reflect on the issues, and think of innovative and creative ways to meet the goals of 'Education for Sustainable Development'.
Contact
Ms Livleen K Kahlon
Fellow
Environment Education & Youth Services Division
E-mail:
kahlonl@teri.res.in