COP16 - Building sector energy use: new directions, new priorities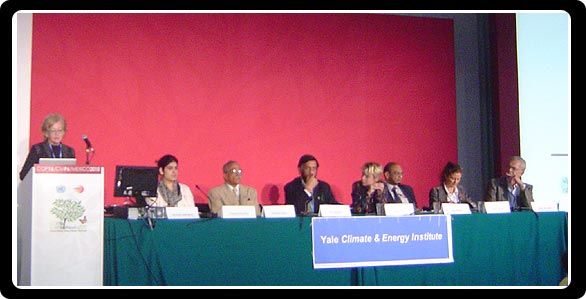 Cancun, Mexico - Yale University, Wuppertal Institute, and TERI (The Energy and Resources Institute), hosted a side event on building sector energy use at COP16 in Cancun on 4 December 2010.
The event titled 'Building sector energy use: new directions, new priorities' brought together seven distinguished panelists to talk about the urgent need for the world to focus on the building sector, which is responsible for 40% of global greenhouse gas (GHG) emissions. While the EU decision to have all buildings constructed after 2020 nearly carbon neutral is a giant step forward, the panelists showed that there is still much progress to be made in this field.
Dr Michelle Addington, Professor at Yale School of Architecture who also serves on the Executive Committee of YCEI, highlighted that the building sector has been the least successful in reducing its emissions in the past. She claimed that the "ubiquity of buildings and their familiarity renders them knowable" and people do not stop to question how they can be improved.
The importance of public awareness on this issue was also a major point raised during this event. Dr Rajendra Pachauri, Chairman of the IPCC and Director of YCEI said that the 4th assessment of the IPCC tried to identify the economic potential of this sector along with the market potential and found that the former far exceeds the latter - indicating that there is an enormous gap between what economics is dictating and what the market is actually doing.
Her Excellency Lykke Friiso, Minister for Climate and Energy and Minister for Equal Right of Denmark, highlighted the need to not just focus on negotiations but also "get down to action". She also asserted that not only is it possible to build a low-carbon home that is more or less the same price as a conventional home, but that low-carbon buildings can be far more beautiful and fascinating than traditional buildings and should be given a chance.
Sylvie Lemmet, Director, Divison of Technology, Industry, and Economics, United Nations Environment Programme (UNEP) discussed the Common Carbon Metric, which is based on more than four years of research on how to measure and report building-related GHGs. "The world needs a common language - a metric that is universally applicable - in order to agree on best policies for business" she said. Dr Peter Hennicke, former President of the Bridging the Information Gap on Energy Efficiency in Buildings (bigEE) Project, stressed that presently there aren't ways for the public to access it easily, which is why the bigEE project aims to make existing and new knowledge about the building sector available to as many people as possible. India and China are the first two project partners of this project.
India was a focal point for the last three speakers who talked about its successes and failures in the building sector. Priyanka Kochhar, TERI, drew the audience's attention to the issue of using local skills and knowledge in making energy efficient buildings. Dr Arvind Krishnan, School of Architecture and Planning, New Delhi, focused on building designs and completely challenged the idea of cuboid buildings, which he said are very inefficient. He asserted the need to "view buildings as solar envelopes" and presented an example of a building in Chandigarh, India - called the Solar Passive Complex - that saves 50% energy due to its design and structure. Echoing other speakers, the final panelist, Mr Ajay Mathur of the Bureau of Energy Efficiency, India, talked of the major role of the Building Sector in carbon emissions and stressed on the importance of establishing a building code which all architects and builders should be educated about.