United Nations Climate Change Conference - COP17 and CMP7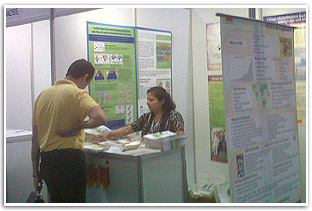 The 17th Conference of the Parties (COP17) to the United Nations Framework Convention on Climate Change (UNFCCC) and the 7th Session of the Conference of the Parties serving as the Meeting of the Parties (CMP7) to the Kyoto Protocol is being held at Durban, South Africa, from 28 November- 9 December 2011. COP 17 brings together representatives of the country governments, international organizations, and civil society. The discussions seek to advance the implementation of the Convention and the Kyoto Protocol, as well as the Bali Action Plan, agreed at COP 13 in 2007, and the Cancun Agreements, reached at COP 16 in December 2010.
As with all COP events, TERI was at the forefront in steering discussions on relevant issues pertinent to the negotiating process. In addition to an exhibit, the Institute had its own side events and also participated in other events in collaboration with its international partners, on a range of critical issues. A summary of TERI's main activities at COP17 is given below.

Side events and other participation information
TERI's side events
Thursday, 1 December 2011
15:00 - 16:30, Africa Pavilion, room - Rainforest
Contact: Mr Arnab Bose

Carbon Finance - Opportunities in Africa
Carbon Finance - Opportunities in Africa, a side event for COP 17 was chaired by Yacob Mulugetta of UNECA, and included a presentation by Mr Arnab Bose, TERI. The presentation was titled 'Financial gradients', with sub themes on understanding Climate Finance, CDM Trends, and Opportunities for Africa. Read more...

---

Monday, 28 November 2011
13:15-14:45, Apies River
Contact: Ms Suruchi Bhadwal
International Confabulations & Sub-national Actions: Showcasing India's response to Climate Change
TERI's side event at COP 17 focused on the ambitious actions laid out on climate change at sub-national scales vis-à-vis international negotiations and the course of developments. The focus was on the commitments on international negotiations and the disproportionate domestic actions being taken. The case of India, wherein every state is developing its Climate Action Plans, was presented with an analysis of frameworks, priorities, and capacities. Read more...


Other side events involving TERI
Thursday, 8 December 2011
Contact: Ms Shailly Kedia
Konrad-Adenauer-Stiftung (KAS) PROGRAMME
How can Mega-Events, such as the 2010 FIFA Soccer World Cup in South Africa, the 2010 Commonwealth Games in India as well as the 2014 FIFA Soccer World Cup and the 2016 Olympics in Brazil, be used as catalysts for sustainable urban development? The authors of a new KAS manual will share practical insights and scientific research findings.

Venue: German Stand, Quinine Tree Marquee, COP17, Climate Change Response Expo

15:00-16:30 : Panel Discussion: "Sustainable Mega-Events in Developing Countries: Experiences & Insights from South Africa, India and Brazil"

Venue: Climate Smart Cape Town Stand, COP17, Climate Change Response Expo

17:00-18:30: "Sustainable Mega-Events in Developing Countries: Experiences & Insights from South Africa, India and Brazil"

---

Tuesday, 29 November 2011
20:15-21:45, Indwe River
Contact: Ms Neha Pahuja
Analyzing issues and options for implementing NAMAs
TERI, ERC (Energy Research Centre) of the University of Cape Town and Tsinghua University together presented the progress in work on the NAMAs (Nationally Appropriate Mitigation Actions) in the BASIC (Brazil, South Africa, India, China) countries. Read more...

---
Papers Presented
TERI Exhibit

Venue: ICC, Durban
28 November - 9 December 2011
Coordinator: Ms Suruchi Bhadwal
In this joint exhibit, TERI and the International Institute for Applied Systems Analysis (IIASA) profiled their new initiatives and research on climate policy pertaining to GHG mitigation and adaptation options for the energy, urban, and rural sectors. TERI also showcased its multidisciplinary work relating to climate change with posters, working papers and policy briefs.
Besides, colleagues from TERI have been participating in other events including round table discussions, conducting meetings with various organizations and media interactions.
Contact
Ms Suruchi Bhadwal
Associate Director
Earth Science and Climate Change Division
E-mail: suruchib@teri.res.in