TERI-ITEC Courses 2011-12: Course VII - Renewable energy and energy efficiency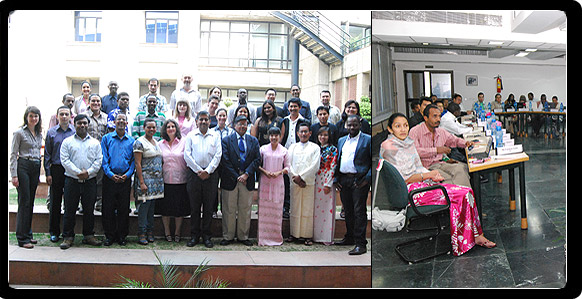 TERI has been empanelled by the Indian Technical and Economic Cooperation programme (ITEC)/ Special Commonwealth Assistance for Africa Programme (SCAAP) of the Government of India. The Biomass Energy Technology Applications (BETA) group of the Energy Environment Technology Development (EETD) division of TERI organized a three-week international training programme on 'Renewable Energy and Energy Efficiency' under the ITEC programme from 13 February to 2 March 2012.
The programme observed participation of 30 engineers/scientists/policy makers from 19 different countries viz Antigua and Barbuda, Armenia, Brazil, Chile, Cuba, Ecuador, Ethiopia, Mauritius, Myanmar, Nepal, Netherland, Antilles (Venezuela), Philippines, Russia, Serbia, Solomon Island, South Africa, Trinidad & Tobago, Ukraine, and Vietnam.
The training provided an in-depth understanding of the renewable energy, energy conservation, and energy efficiency concepts, their applications and policy aspects, practical demonstrations in Gual Pahari along with field visits, followed by a week's stint at TERI-SRC (Bangalore). The course was divided into three modules. The first module covered the theoretical aspects of renewable energy on Biomass, Solar, Wind, Small Hydro, and Industrial Energy Efficiency etc. The second module consisted of visits to various installations of renewable energy technologies, and different manufacturing industries. The third module was conducted in TERI-SRC (Bangalore) which covered energy conservation and energy efficiency in industry, green building concepts, and visits to The Mahatma Gandhi Institute of Rural Energy and Development (MGIRED), biogas-based power generation plant in Gandhi Krishi Vignan Kendra (GKVK) Bangalore, and to a thermal Gasifier unit.
The course was well appreciated by the attending candidates. The overall satisfaction coupled with the willingness of a few of them to continue the association of their respective countries with TERI in near future, describes in-essence the success of this training programme.
For further information, please contact

ITEC Coordinator
Course Coordinator
Ms Swati Ganeshan
Research Associate
Resources, Regulation, and Global Security Division
The Energy and Resources Institute
Darbari Seth Block, IHC, Lodhi Road
New Delhi, India
Tel. +91-11-2468 2100, 4150 4900
Fax +91-11-2468 2144, 2468 2145
E-mail:

swati.ganeshan@teri.res.in

Mr Sunil Dhingra
Senior Fellow
Biomass Energy Technology Applications
Energy EnvironmentTechnology Development Division
The Energy and Resources Institute
Darbari Seth Block, IHC Complex, Lodhi Road
New Delhi 110 003, India
Tel. +91-11-2468 2100, 4150 4900, 2612 2222
Fax +91-11-2468 2144, 2468 2145, 2612 2874
E-mail:

dhingras@teri.res.in
Related links
Contact
Mr Sunil Dhingra
Senior Fellow
Energy EnvironmentTechnology Development Division
E-mail: dhingras@teri.res.in