TERI-ITEC Courses 2011-12: Course IV - Climate change and sustainablility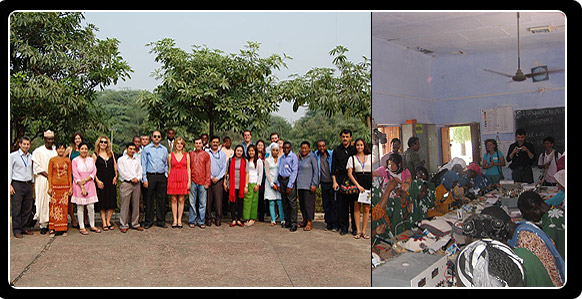 The Energy and Resources Institute-Indian Technical and Economic Cooperation (TERI-ITEC) programme on climate change and sustainability undertaken by TERI and TERI University was held from 3-21 October 2011 at TERI Gram. It imparted training on key climate change and sustainability challenges to 29 participants from across 20 ITEC/SCAAP countries. The course was structured in a way that it provided theoretical understanding of key sustainability challenges and climate change issues through classroom lectures, along with practical experiences through study tours and interactive sessions. The course included study visits to Saharia Organic Farm, Jaipur where the participants got an opportunity to see and understand organic methods of farming. The participants also went to Barefoot College, Tilonia to see their initiatives on solar energy, health care, rural handicrafts, and women's empowerment and also visited Tarun Bharat Sangh, Alwar to understand their work on water conservation. As a part of the course, the participants also visited Agra, to admire the Taj Mahal and went for a guided tour of Delhi.
Hands-on training on geo-informatics and GIS/GPS based applications was imparted to participants through a day-long training session at the TERI University. The course was concluded with the valedictory session, where each participant provided feedback on the course and made presentations on the themes assigned at the beginning of the course.
For further information, please contact

ITEC Coordinator
Course Coordinator
Ms Swati Ganeshan
Research Associate
Resources, Regulation, and Global Security Division
The Energy and Resources Institute
Darbari Seth Block, IHC, Lodhi Road
New Delhi, India
Tel. +91-11-2468 2100, 4150 4900
Fax +91-11-2468 2144, 2468 2145
E-mail:

swati.ganeshan@teri.res.in

Dr Kamna Sachdeva/ Ms Divya Mohan
Assistant Professor/ Associate Fellow
TERI Univeristy/ The Energy and Resources Institute
Darbari Seth Block, IHC Complex, Lodhi Road
New Delhi 110 003, India
Tel. +91-11-2468 2100, 4150 4900, 2612 2222
Fax +91-11-2468 2144, 2468 2145, 2612 2874
E-mail:

kamna.sachdeva@teri.res

,

divya.mohan@teri.res.in