Sustainable Production and Use: Firming up Measures for E-waste Management
by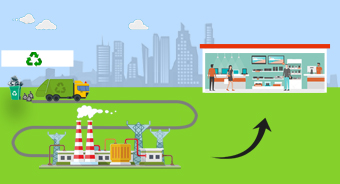 This is an era of unprecedented technology advancement and affordability. The unfortunate by -product of digital development is e-waste. A recent article in the Mint termed electronic imports as the new gold.
According to a survey we conducted sometime back, 12-26 per cent of all electronic items become redundant within 3 years of purchase. Currently, India produces more than 2.7 million tonnes of e-waste every year while there are only 178 facilities to manage it all. If not dismantled and managed properly, these electronic scrap components will only add to the rapidly accelerating pollution challenges in the country.
Drawing greater youth support
The last cog in the wheel is of course citizens. We have an enviable youth population and partnerships with them can be a real asset in the fight against pollution and climate change. Consider the example of Sweden – driven by government action and citizen drive to recycle, the country has all but eliminated garbage and has to import waste from other countries for its waste-to -energy programmes.
It is true that the world is at the brink of ecological disaster. The good news is the fact that it can be averted with future-forward policies promoting sustainable production and consumption.
Widening the focus of e-waste to green technologies
In the future, a big chunk of growth will come from newer sectors such as the solar - India already has the world's largest program for green power from solar energy.
What calls for attention is the e-waste generated from green solar energy, particularly in rural areas where e-waste management facilities are few and smaller but numerous installations are more common. While solar energy is still at a very nascent stage in our country, we need to work out solutions for safe handling of solar components after their useful life is over. Newly installed PV panels can run for up to 20 years. At this critical juncture, fuelled by the Prime Minister's vision for a Swachh Bharat, it is crucial to sharpen our policies and put institutions into place to address this urgent issue.

Source: CleanTechnica
Most developed nations have a comprehensive definition of e-waste. India recently reviewed its E-Waste Rules to include newer categories like CFL and mercury containing bulbs and there is a need to revise it further to consider the by-products of emerging green technologies as well. With about 90 per cent of waste treatment taking place in the unorganised sector, measures to bring it into the organised sector fold are important.
While, businesses are catching on to sustainable practices, it is time for them to reconsider their approach to e-waste. Most companies focus on e-waste management at a CSR or philanthropic level. This must take hold as an enterprise concern, including compliance with stringent policies such as Extended Producer Responsibility (EPR). A focus on sustainable design can also lead to waste-free or reduced waste innovations. In addition, consultation with project developers about their strategy for handling waste from operations would be an effective measure.
---