Reviving Lost Paradise: Fortifying Indigenous Knowledge and Biodiversity Hotspots
by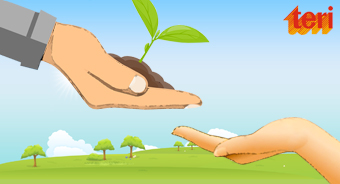 Whether it is Haldi for a sore throat or Pudina for an upset stomach, Indians have long relied on ancient Indigenous Knowledge (IK) to battle common ailments. Several parts of India, particularly North-Eastern states (NE) have been considered as biodiversity hotspots for centuries. The NE alone houses 70% of world's orchid species and many endangered species of fauna.
More than 166 tribal communities follow sustainable practices for centuries and amassed indigenous knowledge in traditional healing, sustainable agricultural farming and various techniques of food processing and preservation.
Having kept these practices close to themselves for centuries, the communities earn their livelihood through sustainable use of natural resources. However,as human needs for resources scale high, we are facing a battle–to save the knowledge of the past.
While we are in the better part of the 21stcentury, what precedes us is abundant Traditional Knowledge (TK), or, as defined by the World Intellectual Property Organisation (WIPO), "knowledge, know-how, skills and practices that are developed, sustained and passed on from generation to generation within a community, often forming part of its cultural or spiritual identity". This knowledge about plant characteristics and their use, lend the surrounding biodiversity a high economic and social value. Besides this, the symbiotic relationship of the communities with their ecosystem has enabled traditional communities to play their part in biodiversity conservation.
Defend and Preserve
Besides defensive protection, positive protection such as notifying biodiversity resources as prior art, creation of sui generis databases, biodiversity registers, consent and certification, benefit sharing with the respective communities, supported by oral knowledge preservation techniques at scale is paramount. This would require a step-by-step approach, starting from getting to grips with the prevailing trust-deficit among indigenous tribes to build awareness around the economic value of their knowledge systems to share benefits that accrue to them.
While individuals and institutions have made efforts in capturing oral knowledge through various media, we need to execute processes such as scientifically cataloguing the biodiversity information and bundling it into a database with access -control mechanisms, at a national scale. The government's unique Traditional Knowledge Digital Library (TKDL), a database ofover 2,260,000 medicinal formulations in multiple languages – is a major step in this direction. This Traditional Knowledge has been classified as 'prior art' to prevent the grant of flawed patents at global level.
However, our efforts need to sum up into a collective balancing act. While preservation is key, we need to evolve a framework that allows room for outside innovations to adapt to our knowledge systems and serve the needs of the country.
Lost in translation and misappropriation
Recent times however, have seen these knowledge systems experience erosion because of two major reasons. First,with modern techniques taking over,coming generations belonging to these communities, are drawing away from traditional knowledge practices.This hinders the 'handing down' tradition from one generation to the next.
Biopiracy or misappropriation and commercialization, is also emerging as a prime threat to IK. With nearly 62% of cancer drugs in the US being modeled from natural products, evidence suggests that "TK based bio-prospecting (scouting for flora and fauna for use in commercial products) significantly cuts costs of pharmaceutical R&D". There are instances galore where corporates, especially the pharma industry has patented innovationswithout giving rightful compensation or benefits to the custodians of the knowledge. Legislative safeguards against exploitation, mechanisms for benefit-sharing and collaborative partnerships must take hold immediately.
---