Driving Sustainability in Food Systems through Eco labeling
by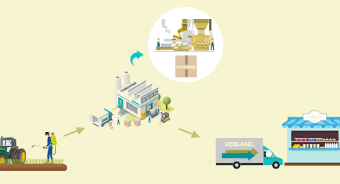 Conventional agriculture practices today bow to reckless use of high inputs which comes at high environmental costs. This aside, these practices have done little to benefit the poor. Together, these have prompted an urgent need for a behavioral change at all levels of the food value chain.
Recent times have seen a range of voluntary or private standards and certification take hold in systemic agri-food value chains. Although wanting in legal backing, voluntary compliance with standards has often resulted in improving market access for stakeholders. It is interesting how the volume of certified produce, however still sums up to a palsy, less than 10% when viewed in terms of overall production statistics.
One of the reasons is variable consumer choices in countries. Consumers in few countries would opt for certified products only if there is no extra cost. In many others, similar product quality coupled with a good cause would demand a premium price. For instance, economists Loureiro and Lotade's study suggests that consumers are willing to pay a higher premium for fair trade coffee than for shade-grown or organic coffee. This is partly due to the lack of perceived health benefits of organic coffee. Besides this, affluent consumers prefer labeled products.
Working around challenges
Assessment of environmental sustainability is complex and varies across regions with a range of direct and indirect variables - resource use, waste generation and treatment, soil health, among others. Thus, crop and region-specific advisories embracing factors like soil nutrient requirements, should lead the way. Questions such as, how farms will be certified and by whom, or which techniques can be used to measure environmental impact of a product, still pervade the Indian context. Unless these issues are addressed, warding off the negative impact of traditional food production practices will be a challenge.
Compliance, a tough choice for marginal farmers
Profitability becomes volatile, another reason for low popularity of standards and lackluster participation among small farmers in certified value chains. It is important to weigh the economic impact of certification on farmers' livelihoods, that are dependent on ungovernable factors such as climate, market forces, etc. compounded by lack of access to resources. The case of Kenyan exporters is telling of a scenario that brought reduced involvement with small-scale farmers following the introduction of the Global Good Agricultural Practices (GAP).
Most often, the market for certified products varies with the crop and is niche. A boom in the market size for certified produce supplemented with increased access to assets and support from cooperatives would incentivise farmers to comply with standards. Bringing a group of farmers to produce eco-labeled products for a market niche is another well-meaning ripple-effect strategy.
Besides these, working for these markets, farm workers are exposed to many social benefits, both direct and indirect--capacity strengthening, participation in decision making and health benefits arising out of minimised use of chemicals.
---